by Alex S. Garcia
June 6, 2018
With hundreds of videos released each month, it is difficult to keep track of everything and you could easily miss one that you really should not miss.
From this day forward, mvdbase will be publishing a list of the best releases of the past month. Some will be from well-known artists, others from more obscure acts, as videos will solely be selected based on the quality of the video itself, regardless of popularity.
It should also be noted that this is not intended to be a 'Top 10' or a 'Top 100'. Instead, we aim to make these as flexible as possible, so that the number of videos selected will only depend on the quality of the releases.
And before we start this month's listing, note that for a wider selection you should check out mvdbvlog for the best releases of the week, with a new episode posted every Monday.
Now on to this month's must-see videos.

12. Maroon 5 "Girls like you"
Directed by David Dobkin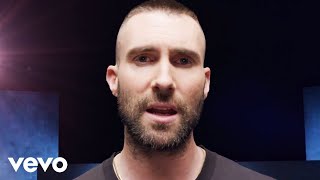 The setting for this one is really quite simple. In essence, it's a bare-bones performance video focusing on Adam Levine as he sings into a microphone with the camera spinning around him.
What makes this exceptional, however, are two things. First, the guest stars. Second, the way they are inserted into the setting.
Twenty six women appear in this, including some of the most famous and/or influential: Cardi B, of course, but also Camila Cabello, Gal Gadot, Sarah Silverman, Jennifer Lopez, Mary J. Blige, Ellen DeGeneres, and also Levine's own wife and daughter.
Each of them is brought seamlessly into the picture each time the singer's back is hidden by the camera's movement. It's a simple concept, yet so powerful and effective.

11. Christine and the Queens "Girlfriend"
Directed by Jordan Bahat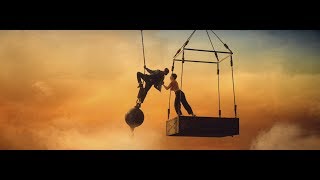 Here are two amusing facts. Despite the name, Christine and the Queens is not a band but a French solo artist... whose real first name is not Christine, but Héloïse!
That said, her latest video is a beautifully shot dance number on a construction site, where she's seen merrily jumping around, undaunted by the dizzying heights.
Another copy of the same video was also released, using French lyrics.

10. Meg Myers "Numb"
Directed by Clara Aranovich
Ever been told what you should do, what you should wear, or how you should behave? It can be extremely annoying, right? Well Meg Myers decided to address that in this video.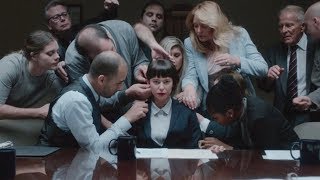 Here she is seen with pretty much everyone around her groping her as they try to adjust her clothes, brush her hair or change how she holds out her hand, as if she were some sort of doll.
In her case, it's so extreme and, we understand, so common that she's become numb to the ordeal.
The result is unsettling and somewhat chilling... but also quite fascinating.

9. Parliament "I'm gon make U sick o' me"
Directed by Gabriel Hart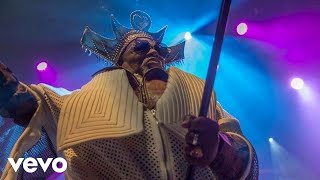 Though the highly influential George Clinton has remained active, both as a solo artist and through a number of bands, it had been 38 years since the last Parliament studio album.
To mark this surprise return, Clinton released a video where he finds himself stuck in a hospital with a sexy nurse who can't get her hands off of him. This is intercut with a lot of artsy, surreal footage.

8. Black Eyed Peas "Ring the alarm"
Directed by Mazik Self
Videos are becoming increasingly more political, denouncing the abuses of the government and warning us against the rise of fascism.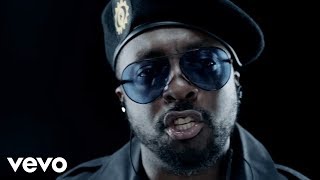 In this one, Black Eyed Peas implore us to "wake up" and to "ring the alarm" as they talk about the internet (net neutrality comes to mind), police brutality and mind control, with some hard-hitting lines such as "who's watching the watchers?", "who's policing the police?", "money over people", "all I see is lies on the screen", "land of the free but what the fuck's free?" or "King had a dream but we all are still asleep".
To drive the message home, they made a video with minimal settings, focusing instead on uniforms, masks and computer graphics, with an abundance of grey and dark blue colors. The result is cold, oppressive and quite effective.

7. Melendi "Déjala que baile"
Directed by Willy Rodríguez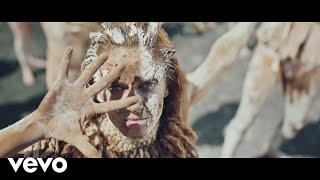 It all begins with a hypnotic pattern on a TV screen. But then, the dancers find a portal. When they walk through it... everything changes.
All they've ever known was that dreary one dimensional black and white universe. Now they find themselves in a hall of mirrors with screaming blues and yellows all around them. Even their owns skins have adopted these same hues.
After some more dancing and exploring, they go through one of the mirrors and find yet another world, a dark void filled with red and blue laser lights. They themselves are now purple with multiple colored dots covering their bodies.
And there is one final surprise awaiting them, expanding their universe even further...

6. Plan B "Guess again"
Directed by Andrew Donoho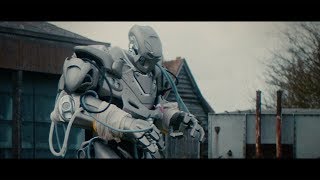 A civil rights activist wants to help two AI's escape the Neoverse, but the authorities are on to him. Elsewhere, killing drones start chasing after a bunch of children.
Plan B offers us a fast-paced, action-packed Sci-Fi thriller with lots of fighting, high technology and even robots.
The plot can be a bit hard to follow, but it's highly entertaining nonetheless.
4-5. Les Stroud "How long?" & "Big yellow taxi"
Directed by Matt Mahurin
Though still active, the once prolific Matt Mahurin now only shoots videos occasionally. He hasn't lost his touch, though, or his distinctive style as evidenced by not one, but two new videos he shot for Survivorman's Les Stroud.
"Big yellow taxi" is a cover of a 70s Joni Mitchell song, while "How long?" is an original. Both revolve around man's tendency to damage the environment, the lyrics served by stunning visuals and moody colors.

3. Jennifer Lopez "Dinero"
Directed by Joseph Kahn
After a colorful Lord of the Ring fantasy-type video, Jennifer Lopez heads in the opposite direction with this reality-based black-and-white extravaganza.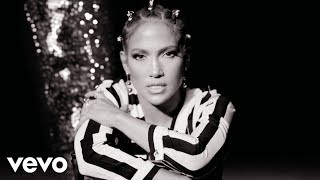 Granted, 'reality' is a relative notion when you consider how over-the-top this is, with J-Lo literally burning dollar bills, walking around with an ostrich in a luxurious garden, or taking a bath while a unicorn stands nearby... Yes, that's right, a unicorn.
But hey, it's Joseph Kahn at the helm, so anything's possible.
The video is filled with gorgeous settings, outrageous behavior, sumptuous dance numbers and amusing references.

2. Juanes "Pa dentro"
Directed by Greg&Lio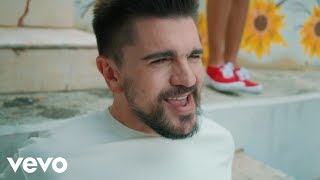 Popular Colombian singer Juanes teamed up with two of France's most innovative directors for this project.
It's a fascinating piece, where a head morphs into smoke, the artist sings underwater, pieces of a frame are taken out as if pieces of a puzzle, various people float in the air, people on fire, matching colors...
And let's not forget some pretty neat gravity-defying stunts and sexual undertones running througout.

1. Childish Gambino "This is America"
Directed by Hiro Murai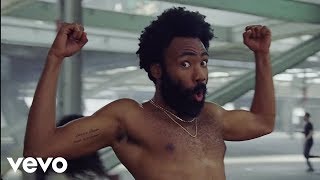 Though this could have been more than what it is, what it is is already quite extraordinary.
In just a few hours, Donald Glover took the internet by storm, and it's easy to see why. The title alone, in this day and age, is quite telling.
Going in, we know to expect the unexpected... and that's exactly what we get.
All the action is set in a large warehouse that, in under four minutes, manages to embody most of America's current issues (mass shootings and the mistreatment of the black community in particular).
It's violent, it's brutal, but also necessary to avoid the risk of further desensitization.

Watch the videos
For your convenience, all the above videos have been grouped together in a YouTube playlist, which can be found here:
---
this article is copyright (c) 2018 by Alex S. Garcia